DESCRIPTION
A gemstone feast for the eyes! A beloved Audry Rose classic and more brilliantly beautiful than ever before. Stone options of Emerald, Sapphire, Ruby, and Black Diamond.
---
DETAILS
- (1)
2.5mm, (2)2mm, (2)1.5mm Natural Sapphires, Rubies, Emeralds, or Black Diamonds
- 14k Yellow Gold
- All Stones are Ethically Sourced
- Natural Stones may slightly vary in color
Customer Reviews
Write a Review
Ask a Question
07/12/2022
Turquoise J.

United States
Gorgeous ring!
I turned 51 in July and I treated myself to the ruby oceana ring. The number of stones was significant: 5 stones + 1 ring = 51 trips around the sun. I mentioned it in the comments, and the folks at Audry Rose were over-the-top kind, sending me a birthday card wishing me well! I love this company--the Mother's Day catalog had me at hello with the gorgeous pictures of babies. What I fundamentally love is that Audry Rose seems to share my philosophy of jewelry, as in supporting, remembering, and cherishing the moments in our lives with jewelry that provides a beautiful reminder every time we look at it, and practical enough to wear every day. Thank you so much for this lovely ring! The rubies are superb--tons of sparkle and joy every time I move my hand!
Thank you for your kind words and support!! We are so happy you could celebrate yourself with our sparkling gems! We adore the significance and thought that went into selecting this piece and thrilled to hear we share a similar philosophy and adoration for heirloom jewelry (as well as cute babies!!) We hope you treasure all of your pieces from us for years to come! Keep sparkling :)
06/16/2022
Andrea

United States
Incredible quality & customer service
This was my first time ordering from Audry Rose and I will be a repeat customer. My daughter fell in love with the Oceana Ring and we purchased this for a graduation gift. I did not place the order in time for it to arrive in time for graduation (my fault). I reached out to customer service to explain the situation and they replied quickly and said that they would overnight ship a very similar — if not more beautiful — ring. It arrived in time for graduation and we could not be more thrilled with the quality and beauty of the ring and with the incredible customer service. Thank you, Audry Rose!!
Thank you for your kind words and glowing review, Andrea! We completely understand how important it is to celebrate your daughter's achievements and we're so happy you chose us to congratulate her graduation! We hope your daughter continues to enjoy her ring and please feel free to reach out to us again if you need any last minute gifts. We'll do our best to make magic happen :)
05/03/2022
Cindy S.

United States
Emerald Oceana Ring
I purchased this as a birthday gift for my daughter and could not be more pleased!she absolutely loved it! I would definitely purchase from you again. I had questions which were answered to my complete satisfaction and felt very comfortable ordering this online. Thank you for a great shopping experience!!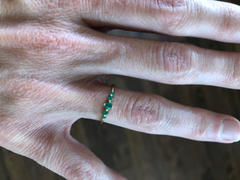 What a gorgeous ring to celebrate your daughter! We are so happy to hear she loves her ring and our Customer Experience Team helped ease any online shopping doubts. We hope she treasures this emerald beauty always!